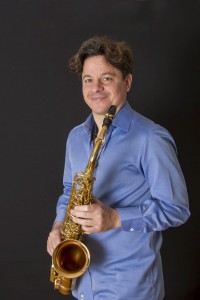 Sándor Rigó, Saxophone
Sándor Rigó (Budapest, 1965) studied in Hungary and Austria. In 2001 he graduated with distinction at the University of Music and performing Arts Vienna, obtaining a Mag.Art. degree at the classical saxophone department.His professor was Oto Vrhovnik. In 2009 he obtained the Bachelor of Art. degree at the musicpädagogic department both for classical and jazz saxophone of the University of Music and Performing Arts Vienna. His professor for jazz was Martin Fuss. Early schooling took place at the Ferenc Liszt Academy of Music at Györ, where he obtained a clarinet teacher and orchester musician degree in 1989. He attended masterclasses held by jean-Marie Londeix, Eugene Rousseau, Jean-Yves fourmeau, Arno Bornkamp and Marcus Weiss, and the workshops of Eric Marienthal and Bob Mintzer.
Sándor Rigó has been active as a teacher since 1988. Currently he teaches classical saxophone at the International Academy of Music and Performing Arts Vienna (AMP), gives masterclasses and works as member of jury at international competitions.
He is author of saxophone trancriptions and a scale book for saxophone, published by Schott Musik, Germany and Swiss – Soft Music, Budapest. He is member of AKM – Austro Mechana and Artisjus – Hungary.
Sándor Rigó has appeared as soloist with the Györ Philharmonic Orchestra and with other chamber music formations and gives concerts around Europe, the US and Canada.
He has contributed to many radio and television productions and CD recordings in classical, jazz and world music.
He performs and works permanently with the pianist Christina Leeb-Grill (www.leeb-grill.info,classic, original compositions), Sandor Rigo Quartet (jazz, own compositions) and different chambermusic and jazz formations.
Sándor Rigó is a Yanagisawa artist.